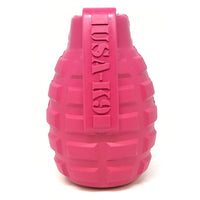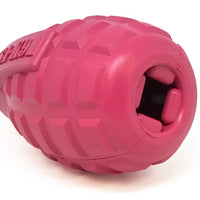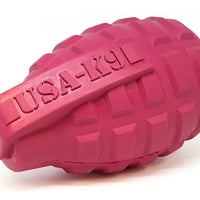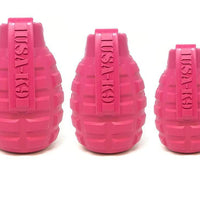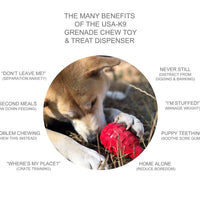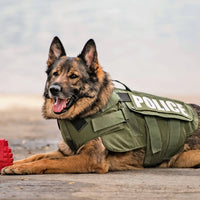 USA-K9 Puppy Grenade Durable Rubber Reward Toy
USA-K9 Dog Toys are inspired by military objects and built to withstand the demanding use of professional K9 handlers in law enforcement and the military. USA-K9 dog toys are made in the USA from a durable rubber compound.  Our material is non-toxic and FDA compliant and even sustainable and biodegradable. Softer rubber for teething puppies.


DURABLE CHEW TOY: The Grenade Toy is designed to withstand the abuse of most "power chewer" puppies. Chewing on this toy will help keep your dogs' teeth clean and breath fresh.

DISPENSES TREATS: Help your dog fight boredom by filling the Grenade Toy with treats like kibble, canned dog food, peanut butter, or your favorite dog treat recipe. Best results: mix wet/dry foods. Freeze with treats inside to prolong use.

REDUCES PROBLEM BEHAVIORS: Reduces problem chewing, helps reduce boredom, and relieves separation anxiety.

MADE IN USA: Proudly keeping jobs in America! Designed and Manufactured in the USA!

ANIMAL & PLANET FRIENDLY: Material is FDA compliant, non-toxic and biodegradable. It is sustainably harvested helping us reduce our carbon footprint.

VETERINARIAN APPROVED: Veterinarian Approved!


Specifications & Safety
Available in three sizes

Medium measures 3.6" tall x 2.35" wide. 4.2 oz. For dogs 0-35lbs/0-15 kg.

Large measures 4.6" tall x 3.5" wide. 9 oz. for dogs 30-60lbs/15-27 kg.
Large measures 5.4" tall x3.5" wide. 14.1 oz. For dogs 60-90 lbs/25-40 kg.
Made in the USA

No toy is 100% indestructible. Always supervise your dog when playing with toys. Periodically inspect all toys for damage. Do not allow your dog to continue to play with a damaged or broken toy.
Care Instructions
Hand wash with warm water and dish soap. Rinse thoroughly. 
For stubborn treats that won't rinse out, soak in warm water and dish soap.
Top-rack dishwasher safe.
Shipping & Returns
This product is non-refundable, all sales final.