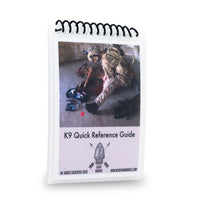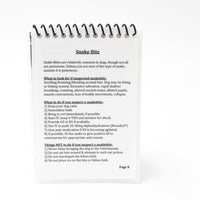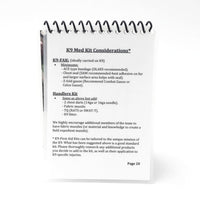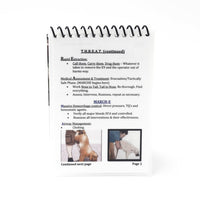 K9 Quick Reference Medical Guide
Your K9 is a versatile and valued member of your team, and in many cases, family. However, due to their versatility, they're subject to a wide variety of potential medical emergencies. Traumatic injuries, poisoning, bloat, snakebites, cuts, overdoses, and many more. As their handler or teammate, you will be looked upon to assist your K9 when they need you the most. This K9 Quick Reference Guide is a fantastic addition to help provide the best response to a K9 medical emergency.
Developed in conjunction with K911 Tactical Care, an incredible K9 Training company and a Crisis Application Group affiliate! www.K911TacticalCare.com for class info, links to videos, and more!
Size is 5.25"H x 3.5"W, with 80lb paper, fully laminated. Easily fits in the shoulder pockets of duty uniforms, IFAK's, and aid bags. Rugged enough and small enough to go with you on every single mission.
What's Inside
K9 Handling Considerations
T.H.R.E.A.T. algorithm for K9 care (Order to perform medical care for K9's) such as what tourniquets work best and when to use them
Where to needle decompress a K9
How to deal with Heat Stress
Gastric Dilation and Volvulus (bloat)
Snake Bite
K9 CPR
Unconscious/Unresponsive K9
Hydration Status in K9's and Injection Sites
K9 Vitals (baseline and space for your K9)
K9 Stages of Shock
Emergency Formulary (drug doses) for K9's
Advanced Life Support medications, Anesthetics, Benzo'and Opioids (and their reversal agents), and more!
K9 Med Kit Considerations
Injection sites with visual image guide
K9 Information Card
Shipping & Returns
This product is non-refundable, all sales final.