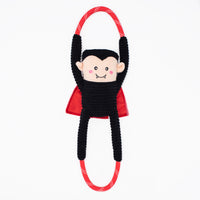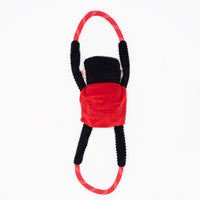 Halloween RopeTugz® - Dracula
Playtime just got a tad bit more bitey with the Halloween RopeTugz® Dracula toy! Featuring the same durable rope used in Climbers leashes looped through its entire body, this extra-tough rope toy can withstand hours of tug of war play with your pup. Not for heavy chewing.
Specifications & Safety
Available in one size only

Two color options

Measures 28" x 6" x 3"

1 round squeaker
No toy is 100% indestructible. Always supervise your dog when playing with toys. Periodically inspect all toys for damage. Do not allow your dog to continue to play with a damaged or broken toy.
Care Instructions
When cleaning plush toys, use a pet-safe detergent or avoid using detergent entirely. Machine-wash on a gentle cycle and hang to air dry. You can also wash soft toys by hand using a half-water, half-vinegar solution. 
Shipping & Returns
This product is non-refundable, all sales final.