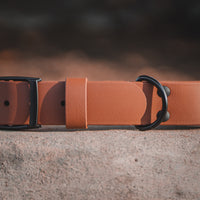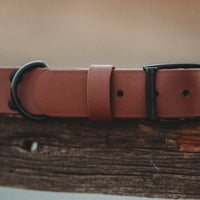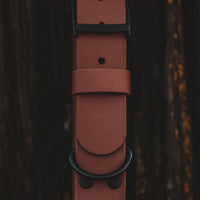 Redwood Buckle Collar 1.5"
Adventure ready and built to last! Our 1.5" buckle collars are made from genuine Beta 520 Super Heavy BioThane® with a look and feel like leather without the maintenance that leather requires. Comes standard with black hardware.
Made to order.
As of April 2023, our center bar buckles have been replaced with roller buckles.
Sizing & Specifications

SIZING
This collar is designed to fit most medium to large breed dogs.
Measure your dog where the collar naturally rests with a soft measuring tape, or a piece of string (measure the string with a rigid ruler) to ensure the best fit. The measuring tape (or string) should be snug, but not tight, allowing for sufficient room to fit two fingers between the collar and the dog's neck. If your dog is on the upper end of a measurement or is in between sizes, we recommend sizing up. Each collar comes with six holes to adjust 2-inches shorter or 3-inches longer.  
The neck size is the measurement from the center of the buckle to the third adjustment hole. These measurements are a general guide, please enter your dog's measurements in the seller instructions at checkout for an exact fit. 
Our model is 79 lbs with a 19" neck circumference in a size large.
SMALL: 12" NECK SIZE, FITS NECKS BETWEEN 10"-15"
MEDIUM: 15" NECK SIZE, FITS NECKS BETWEEN 13"-18″
LARGE: 18" NECK SIZE, FITS NECKS BETWEEN 16"-21″
X-LARGE: 21" NECK SIZE, FITS NECKS BETWEEN 19"-24″
SPECIFICATIONS
Welded D-Ring

Easy to clean, latex-free, and antimicrobial

Corrosion, mildew, odor, and UV resistant

Contact with topical flea medications and other insect repellents may result in cracking, hardening, staining or pitting

Not to be used with a tie out
Disclaimer: Dogs are tough on gear, and none of our products are damage proof. Over time wind, water, and friction can cause the coating on our hardware to chip away and reveal the underlying metal. Always check your products for wear and tear before use. Do not use any product that is visibly damaged i.e., cuts, chew marks, rust etc. 
Care Instructions
Use a soft sponge, wash with warm water and soap or a mild detergent.


Shipping & Returns
This product is eligible for a size exchange if in new and unused condition.
Due to the handcrafted nature of this item, the product you receive may vary slightly in color and pattern placement from those pictured.