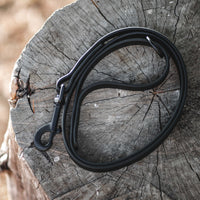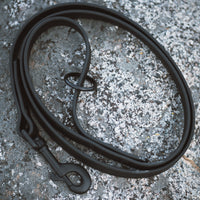 Durable and waterproof, this 3/4" leash is handcrafted to withstand any adventure. Made from Beta 520 Super Heavy BioThane®, our leashes look and feel like leather without the maintenance that leather requires. Comes standard with a 3/4" powder coated, stainless steel bolt snap in a black finish. Made to order.
Specifications & Safety
Powder coated, stainless steel bolt snap

Easy to clean, latex-free, and antimicrobial

Corrosion, mildew, odor, and UV resistant

Contact with topical flea medications and other insect repellents may result in cracking, hardening, staining or pitting

Not to be used as a tie out
Disclaimer: Dogs are tough on gear, and none of our products are damage proof. Over time wind, water, and friction can cause the powder coating to begin to chip away and reveal the underlying metal. Always check your products for wear and tear before use. Do not use any product that is visibly damaged e.g. cuts, chew marks, rust etc. 
Shipping & Returns
This item can be returned or exchanged within 30 days of purchase if in unused and original condition. Please read our return policy for more information.