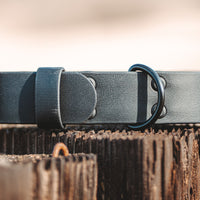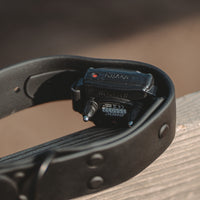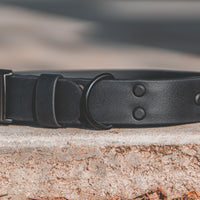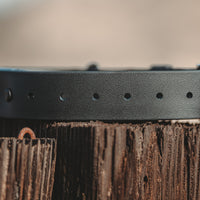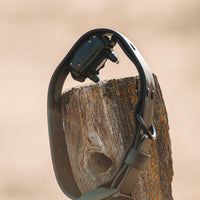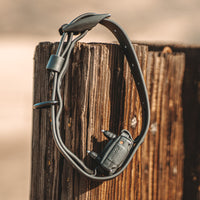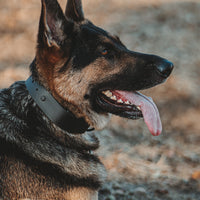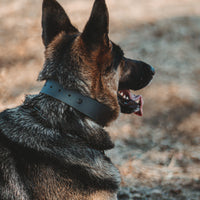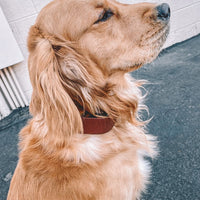 E-Collar Concealment Collar 1.5"
Our 1.5" concealment collar is designed to hide most Dogtra or E-Collar Technologies receivers with a strap width of 1" or 3/4". This collar may not work with receivers that have winged contact points. Please include your e-collar make and model in the seller instructions at checkout for the most accurate fit. Made to order.
As of April 2023, our center bar buckles have been replaced with roller buckles.
RECEIVER INSTALLATION
You will need a flathead screwdriver prior to installation.
Unscrew the chicago screw holding down the inner strap furthest from the buckle. Please be aware the coating on our black screws may chip to reveal the underlying brass if too much force is used.

Slide your receiver unit through the inner strap.

Use the 3/16" chicago screw provided to re-fasten the strap to the main collar. Collars shipped before June 2023 have a larger, 1/4" screw that will spin in the hole even when fully tightened. Check periodically and tighten as needed. Contact us for replacements.

Depending on model, you should still have access to the charging port.
Sizing & Specifications

SIZING
This collar is designed to fit most medium to large breed dogs.
Measure your dog where the collar naturally rests with a soft measuring tape, or a piece of string (measure the string with a rigid ruler) to ensure the best fit. The measuring tape (or string) should be snug, but not tight, allowing for sufficient room to fit two fingers between the collar and the dog's neck. If your dog is on the upper end of a measurement or is in between sizes, we recommend sizing up. This collar has 4 additional holes than our standard buckle collars.
E-collars are designed to have a snug fit high on the neck, with the receiver placed on left or right side of the throat. An appropriately sized e-collar should not easily slide around the neck or be so snug as to cause pressure sores.
The neck size is the measurement from the center of the buckle to the third adjustment hole. Concealment collars come with additional holes to accommodate the receiver and have a wider size range than our standard buckle collars. These measurements are a general guide, please enter your dog's measurements in the seller instructions at checkout for an exact fit. 
Our model (German Shepherd) is 80 lbs with a 19" neck circumference in a size large.
MEDIUM: 15" NECK SIZE, FITS NECKS BETWEEN 13"-19″
LARGE: 18" NECK SIZE, FITS NECKS BETWEEN 16"-21″
X-LARGE: 21" NECK SIZE, FITS NECKS BETWEEN 19"-24″
SPECIFICATIONS
Welded D-Ring
Black solid brass hardware

Easy to clean, latex-free, and antimicrobial

Corrosion, mildew, odor, and UV resistant

Contact with topical flea medications and other insect repellents may result in cracking, hardening, staining or pitting

Not to be used with a tie out

D-Ring is not to be used with strong pulling dogs
Disclaimers: Dogs are tough on gear, and none of our products are damage proof. Over time wind, water, and friction can cause the coating on our hardware to chip away and reveal the underlying metal. Always check your products for wear and tear before use. Do not use any product that is visibly damaged i.e., cuts, chew marks, rust etc. 
This collar is best used with dogs who have a good understanding of a loose leash or off leash walk. If your dog is a strong puller, we do not recommend using the D-Ring on this collar for walks due to the pressure that will be applied to the receiver. The D-Ring is best used for identification tags.
Be sure to remove the collar if your dog is wet and allow adequate drying time to minimize the chance of your dog developing pressure sores. 
Care Instructions
Remove your e-collar receiver.
Use a soft sponge, wash with warm water and soap or a mild detergent.
Shipping & Returns
This product is eligible for a size exchange if in new and unused condition.
Due to the handcrafted nature of this item, the product you receive may vary slightly in color and pattern placement from those pictured.